OxyTrim 350g Strawberry
Amino Nutrition
$49.95

More info.
Make 4 payments of $12.49 over 8 weeks and get it now!
In Stock
Introducing the powerful thermogenic fat burner from Amino Nutrition. Suppress your appetite and boost your energy levels.

Unique formulation including:

Acetyl L-Carnitine
CLA (Conjugated Linoleic Acid)
Raspberry Ketones
Garcinia Cambogia
Green Tea
African Wild Mango (Irvingia gabonensis)
Green Coffee Bean Extract
Amino Acid Complex
Vitamins and Minerals
Sugar free and naturally flavoured! Each container including 70 servings so great value.
oxytrim350g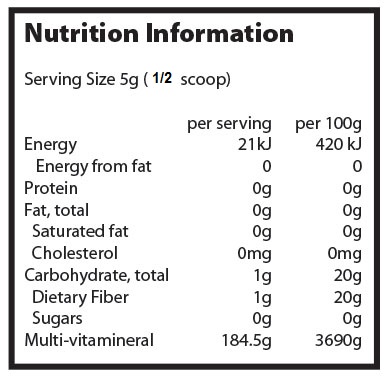 Ingredients: Acetyl L-Carnitine, Fructo-Oligo-Sacharides (Fiber), CLA (Conjugated Linoleic Acid), Raspberry Ketones, Garcinia Cambogia, Coleus Forskohii, Citrus aurantium, Green Tea, African Wild Mango (Irvingia gabonensis), Green Coffee Bean Extract, Amino Acid Complex (L-Cystine, L-Taurine, L-Phenylalanine), Branched Chain Amino Acids (L-Leucine, L-Isoleucine, L-Valine), L-Tyrosine, L-Glutamine, L-Glutamic Acid, Beta Alanine, Arginine, Alpha-Ketogluterate), Multivitamineral (Potassium, Phosphorous, Calcium, Magnesium, Molybdenum, Sodium, Vit C, Niacin, Vit E, Iron, Zinc, Riboflavin, Manganese, Vit B6, Pantothenic Acid, Thiamine, Copper, Vit A, Folate, Iodine, Vit K, Chromium, Selenium, Vit D, Biolin, Vit B12), Betaine HCI, Chromium Picolinate, Biocarbonade Soda, Sucralose, Natural Flavour.

Direction for Use: Simply blend 5g (1/2 scoop) with 200ml of water.

Warning: Not suitable for children under 15 years or pregnant women. Should only be used under medical or dietetic supervision.
Itchy...

By:

Jessie

on 6 August 2014

Have taken thermogenics in the past, this was different though, made me feel like it was a hot itchy rash that was coming up on my body with no physical symptoms (was not pleasant). Felt like all my pores were itchy and hot, whereas other thermogenics just made me feel hot in general without the unpleasant rash itch feeling. Always valued the recommendations from the staff at the Newcastle shop (always helpful and nice), but this was just not pleasant to have. Taste was 10/10, in future I will take 1/2 the recommended dosage, will not write off completely as Amino Nutritions protein is 8/10 for good value.




(3)